Rent From 1º Scooter Rental Arenal d'en Castell
Scooter Rental Arenal d'en Castell
You would like to discover the beach of arenal d'en castell on a motorbike rental scooter arenal d'en castell is one of the most beautiful and familiar beaches of Menorca?
Then don't miss Arenal d'en Castell, a cove of white sand and crystal clear turquoise waters in the shape of a shell.
Arenal d'en Castell is located in the village of Es Mercadal, in the middle of Menorca, and is easily accessible by Scooter Rental Arenal d'en Castell or even on foot along the Camí de Cavalls.
It is an ideal urban beach, but very well integrated in the natural landscape, with a quiet and family atmosphere. It has all the amenities you may need: beach umbrellas, sunbeds, showers, lifeguards, restaurants, hotels, flats, shops, chemist, Valls scooter rental, kayaks, etc.
The best thing about Arenal d'en Castell is its beauty and safety. The beach is more than half a kilometre long and 20 metres wide, with fine, soft sand.
The water is very clear and shallow, ideal for children and for snorkelling. In addition, as it is protected by the cliffs, the beach is sheltered from the wind and waves, except when the tramontana wind blows. It is like a large natural swimming pool where you can enjoy the sun and the sea.
If you want to spend an exceptional day in Arenal d'en Castell, we recommend you to motorbike or rental a scooter in Arenal den Castell and arrive early to find a good spot on the sand or rent an umbrella and a beach umbrella and a hammock.
After a refreshing swim, you can stroll along the edge of the cliff where you can admire the views of the bay.
For lunch, you have several options: you can bring your own picnic and eat on the beach or in one of the areas with tables and benches; you can buy something at the nearby beach bars or supermarkets; or you can choose one of the restaurants in the urbanisation. Or you can relax on the beach, have a drink on a terrace overlooking the sea.
Arenal d'en Castell is a natural beach where you can enjoy a family day out in comfort and without losing its natural charm.
S'Arenal d'en Castell Beach is one of the most beautiful, urbanized corners on the north coast of the island. It is located on the north coast of Menorca, in the municipality of Es Mercadal. Its beaches have the shape of a seashell of about 650 meters long; they have transparent and shallow waters and are very close to tourist buildings where the traveler will find all the amenities.
The city downtown has grown considerably in recent years, having tourist offers for people of all ages. You can also visit the wonderful beach of Na Macaret or the attractive natural harbour of Addaia by scooter rental arenal d'en castell, which has a marina.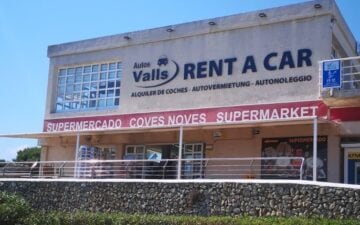 Address
Shopping Center Coves Noves
Arenal den Castell
Menorca
Nearest office open: C/ Curniola, 32 Poima (Airport)
Business Hours
Mondays:

09:00 - 19:00

Tuesdays:

09:00 - 19:00

Wednesdays:

09:00 - 19:00

Thursdays:

09:00 - 19:00

Fridays:

09:00 - 19:00

Saturdays:

09:00 - 13:00

Sundays:

Closed
Lunch Time : Mon-Sun
13:00 - 16:00
In the Coves Noves Shopping Center, you will find the supermarket, restaurants, and stores, as well as the international medical service and pharmacy. These services are located in Arenal d'en Castell just a few minutes away from all the beaches.
Motos Valls Menorca scooter rental arenal d'en castell provides its services in this important area with an agency in the shopping center for the convenience of tourists who want to tour this beautiful place by motorcycle, which will undoubtedly make their trip more fun and they will be able to access the various tourist attractions more quickly.