Rent From Scooter Rental in Hotel Cala Galdana
This modern hotel is on the island of Menorca, a 3 minutes' walk from the beach Cala Galdana, and 3 kilometers from the picturesque Cala Macarella and Cala Macarelleta, Scooter Rental in Hotel Cala Galdana.
The Cala Galdana Hotel & Villas d'Aljandar is located in the southwest of the island of Menorca. The establishment is 150 meters from the beach of Cala Galdana. This beach is more than 400 meters long, making it a very crowded beach with a large number of tourists, especially in winter. This beach has the basic services of a spa, restaurants and stands, a lifeguard station, hammock, chair and umbrella hire, etc. The strategic position of the Cala Galdana Hotel makes it optimal for a family or couple stay, and our staff will attend you directly at the agency inside the hotel itself, so if you want to rent a vehicle or a motorcycle, you will not have to go outside the vicinity of the hotel, remember do not forget your Scooter Rental in Hotel Cala Galdana.
If you already have a reservation at the Hotel Cala Galdana, don't hesitate to rent a motorcycle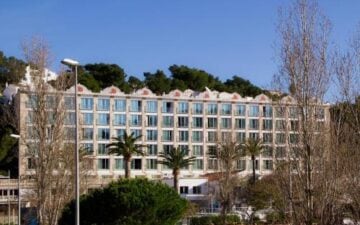 Address
Urb. La Serpentona S/N
Cala Galdana
Menorca
Phone
Telf: 674 680 724 - Tel: 971 573 740 Ext 112
Business Hours
Mondays:

09:00 - 20:00

Tuesdays:

09:00 - 20:00

Wednesdays:

09:00 - 20:00

Thursdays:

09:00 - 20:00

Fridays:

09:00 - 20:00

Saturdays:

09:00 - 20:00

Sundays:

09:00 - 20:00
Lunch Time : Mon-Sun
13:00 - 17:00
With a car or scooter, it will be easier for you to reach places like the Ciutadella, the old capital of Menorca, and ten minutes ahead Mahon, the current capital. These two cities are key if you want to enjoy the nightlife, partying, and fun, as they have the largest number of bars, pubs, and discos on the island, which guarantees the nightlife enjoyment for visitors.