Rent From Scooter Rental Punta Prima
Punta Prima is one of the most visited beaches in the area. With 120 meters in length and 30 meters in width, it extends in the southeastern part of the island. During the English presence, it was called Sandy Bay because of its fine white sand. The shelters on its coast where the fishermen used to hide the fishing devices are still there.
Since it is a shallow beach, it is ideal for children. The beach is well protected from the intense waves thanks to the Air Island, located in front of its coast.
If you think of Scooter Rental Punta Prima in Prima you have reached the right place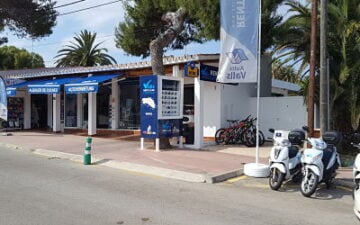 Address
Carrer Mestral nº 3
Sant Lluis
Business Hours
Mondays:

09:00 - 12:00

Tuesdays:

09:00 - 12:00

Wednesdays:

09:00 - 12:00

Thursdays:

09:00 - 12:00

Fridays:

09:00 - 12:00

Saturdays:

09:00 - 12:00

Sundays:

09:00 - 12:00
Punta Prima beach is one of the largest in the region and is also the most populated urbanized area. There are large hotels four and five stars as Hotel Barcelo Occidental, Insotel Punta Prima, Isla del Aire Apartamentsthat can accommodate a big number of tourists, with a complete infrastructure to provide excellent service to every family that visits this important beach.
In addition to the beaches, you can visit historical sites such as the Torre de Son Ganxo, and Torre d'Alclafar. Heading north, you can reach Cala Sant Esteve or even the islet Air Island or Isla del Aire, to see its famous lighthouse.