Rent From 1º Scooter Rental Playas de Fornells
Scooter Rental Playas de Fornells
Playas de Fornells Menorca: an ideal destination to enjoy the sea and nature
If you are looking for a place to spend a quiet and relaxing holiday in Minorca, one of the most recommendable options is Playas de Fornells, a development located on the north coast of the island, between the Tirant cove and the village of Fornells.
Playas de Fornells gives you the chance to stay in flats, hotels or houses with sea views, surrounded by a natural and scenic environment of great beauty. Moreover, you can easily access some of the best beaches and coves of Menorca, either on foot, by Scooter rental at fornells or by boat.
Some of the beaches closest to the centre of Playas de Fornells are:
– Cala Tirant: a wild, reddish sandy beach, ideal for surfing and windsurfing, as there is usually quite a lot of swell. It is located about 2-3 km from the village of Fornells and can be reached on foot, by bicycle or by car. In the nearby urbanisation there is a bar called Isabella Beach Club, where you can enjoy a good meal and a spectacular sunset.
– Cavallería: one of the best known and most unspoilt beaches in the north of Menorca, with reddish sand and crystal clear waters. It is about 10-15 minutes by Scooter rental Playas de Fornells
From Playas de Fornells and you have to walk about 10 minutes from the car park to the beach, where there is a small bar and some toilets.
It is highly recommended to stay until sunset and watch the sunset from the Cavalleria lighthouse, located about 1-2 km from the beach.
– Binimel-la and Pregonda: two typical beaches in the north of Menorca, with reddish sand, undeveloped and very wild. In most of the beaches of Menorca you can practise Nudism, they are about 15 minutes by car from Playas de Fornells.
–Playa cala Prengonda is one of the island's must-see gems, about 30 minutes walk west from Binimel-la and is one of the most beautiful beaches on the island. There are also some small beaches near Binimel-la on the east side of the beach. In the car park there is a good restaurant where you can eat paellas, fish, etc.
– Son Parc: If you want a white sandy beach and a developed area with restaurants, bars, etc., we recommend Son Parc. It is about 10 minutes by car from Playas de Fornells and has a beach bar called Es Bruc which is highly recommended.
In addition to these beaches, you can also visit the other side of the bay of Fornells, where there are small coves and secret corners that are only accessible from the sea. To do so, you can rent a boat, a kayak or a paddle surf or a scooter hire in fornells and explore places such as:
– S'Arenalet y Cabra Salada beaches: two little coves with white sand and turquoise water located near the mouth of the bay.
– The area behind the islands with beaches such as S'Albufereta: a beautiful and very wild area with some small beaches of reddish sand. We highly recommend paddle surfing or kayaking around the island.
Finally, don't forget to visit the village of Fornells, a charming fishing port with whitewashed houses and a quiet, family atmosphere.
There you can sample typical Menorcan gastronomy, such as lobster stew, cheese or ensaimada, in one of its many restaurants. You can also stroll along its promenade, go shopping in its shops or do some water sports such as scuba diving or snorkelling.
As you can see, Playas de Fornells Menorca is an ideal destination to enjoy the sea and nature in one of the most beautiful islands in the Mediterranean.
What are you waiting for to book your Scooter rental Playas de Fornells and have an unforgettable experience?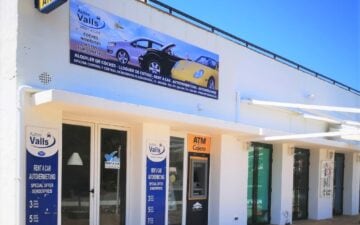 Address
Carrer De Baix, Centro Comercial, Local 4
Playas de Fornells
Oficina abierta mas cercana: Arenal den Castell
Business Hours
Mondays:

09:00 - 20:00

Tuesdays:

09:00 - 20:00

Wednesdays:

09:00 - 20:00

Thursdays:

09:00 - 20:00

Fridays:

09:00 - 20:00

Saturdays:

09:00 - 12:30

Sundays:

Closed
Lunch Time : Mon-Sun
13:00 - 17:00
An emblematic place is the Lighthouse of Cabo de Cavallería. This lighthouse is only 6 km from Fornells and is a wonderful place to enjoy a sunset in good company.
Among the magnificent beaches of Fornells, there are several virgin coves which can be reached only by boat: A S'Arenalet or Cabra Salada. Cala Rotja and Cala Blanca are more easily accessible. To the northwest of Fornells are the busy beaches of Cavallería, followed by Cala Pregonda and Tirant beach, and all of them are extremely beautiful