Rent From Scooter Rental Mahon
Mahón, the current capital of the island of Menorca, known locally as Maó or Maho, is located above an inlet that forms its well-known natural port and the second largest in the world, followed by Perl Harbor, and is also the most important in Menorca, Remember to have a Scooter Rental Mahon and don't forget.
The architecture of its four-story houses is a reminder of the British occupation. In 1993 it was declared part of the World Network of Biosphere Reserves by UNESCO, preserving its facades and historical places, avoiding the transformation of its colonial legacy.
On the road that connects the city with Fornells, there is a natural spot of unparalleled beauty: S'Albufera d'es Grau, the only natural park in Menorca and a biosphere reserve nucleus on the island.
The best option is to have a Scooter Rental Mahon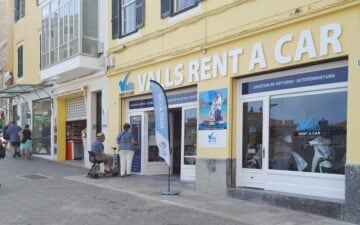 Address
Plaza de España 13
Mahon
Business Hours
Mondays:

09:00 - 14:00

Tuesdays:

09:00 - 14:00

Wednesdays:

09:00 - 14:00

Thursdays:

09:00 - 14:00

Fridays:

09:00 - 14:00

Saturdays:

09:00 - 14:00

Sundays:

Closed
The beautiful beaches near the capital are the main reason for the tourist influx, the most famous are:
Sa Mesquida beach, in the north, Es Grau beach, Punta Prima, Cala Tortuga, Es Caló Blanc.
And besides the beautiful Coves, Mahon has many places to discover: Plaza del príncipe y Plaza de España, Claustro del Carme, Mirador del Carme, a viewpoint over the port of Mahon with an impressive view of the sea, Plaza de la Conquista, Public Library, Can Mercadal.
Mahon has the oldest opera theatre of Spain. It was built in 1829 is of a Classical Italian design with a capacity of 850 persons, the theatre principal of Maho was visited by Queen Isabel II on her visit to Menorca in 1860.
Motos Valls has a motorcycle rental and car rental office in Plaza España Square, in downtown Mahon.